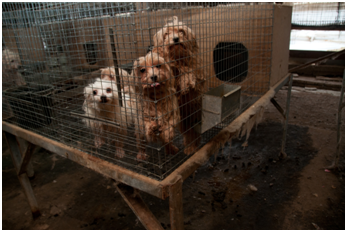 A puppy mill is a large scale commercial dog breeding operation. Hundreds of dogs are usually housed in overcrowded and unsanitary conditions without adequate veterinary care, food, water or socialization.
Puppy mill dogs do not get to experience treats, toys, exercise or basic grooming. Dogs are often kept in cages with wire flooring that injures their paws and legs and it is not unusual for cages to be stacked in columns. Female dogs are bred at every opportunity with little-to-no recovery time between litters and when they can no longer reproduce, they are often euthanized. Breeding dogs at puppy mills might spend their entire lives outdoors, exposed to the elements, or crammed inside filthy structures where they never get the chance to breathe fresh air or see the sun.
Dogs are often bred with little regard for genetic quality. Puppy mill puppies are prone to congenital and hereditary conditions. These can include:
Epilepsy
Heart disease

Kidney disease
Musculoskeletal disorders (hip dysplasia, luxating patellas, etc.)
Endocrine disorders (diabetes, hyperthyroidism)
Blood disorders (anemia, Von Willebrand disease)
Deafness
Eye problems (cataracts, glaucoma, progressive retinal atrophy, etc.)
Respiratory disorders
Puppies often arrive in their new homes with diseases including:
Giardia
Parovirus
Distemper
Upper respiratory infections
Kennel cough
Pneumonia
Mange
Fleas
Ticks
Intestinal parasites
Heartworm
Chronic diarrhea
Puppies are also removed from their mothers and littermates at a young age so they often suffer from fear, anxiety and other behavioral problems.
There are an estimated 10,000 licensed and unlicensed puppy mills in the United States, in total selling more than 2 million puppies annually. The vast majority of these dogs are sold to pet stores by dealers or brokers. Avoid the temptation to "rescue" a puppy from a pet store, as this just puts money into the pockets of the puppy mill industry and ensures they will continue to breed dogs in inhumane conditions. Adopt or find a responsible breeder!