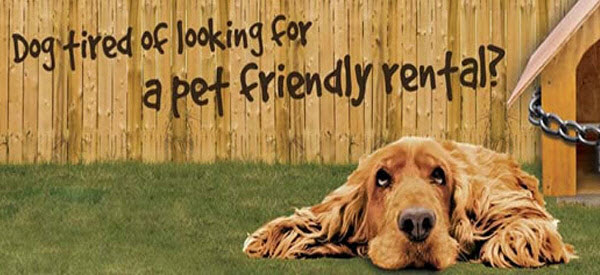 In a study conducted by the National Council on Pet Population Study and Policy, statistics indicate that a top reason for pet homelessness is related to moving and being unable to get pet friendly housing. Many landlords and property managers
DO
open their residences and communities to responsible pet caretakers. Please consider the following advice when seeking a lease or purchasing a property where pets are allowed:
Give yourself a minimum of six weeks to find a suitable rental.
Compile documents that prove you are a responsible pet owner. Include vaccination records, training certificates and letters of reference from your previous or current landlord and veterinarian. You can even make a resume for your pet!
Be prepared to pay and even offer an extra security deposit.
Promote your pet and yourself. Make arrangements for the landlord to meet your pet! Responsible pet owners make excellent renters.
Protect your rights. Make sure "pets allowed" is part of your written lease agreement or in the association by-laws.
Don't try to conceal your pet. You may be subject to eviction or legal action.
Respect the pet restrictions. Most properties will have policies in place such as: weight/size limitation, breed limitation, species limitation, and maximum number of pets allowed.
Respect pet "house rules or by-laws". All properties will have regulations in place for the benefit of the community at large. Let your landlord or property association know that you will comply.
Remember that every situation may have slightly different guidelines. So take as much time as necessary to fully understand all the rules and regulations pertaining to your lease or homeowner's association contract.
For information on where to find pet friendly housing in your area, visit the following links:
Rent.com


BringFindo.com