Grooming
Grooming and Scissoring

Grooming and hand scissoring are performed by a staff of experienced groomers in a state-of-the-art groom shop. In addition to HydroSurge, the shop includes ClipperVac and Shed-X high velocity coating stripping systems. Unlike most groom shops, the Country K9 Pet Spa adjoins onto a fenced in play yard where your pet can relieve him or herself and take a play break during the grooming process. This is especially helpful for stress reduction. A bath, ear cleaning, toenails, trimming, coat thinning and hand scissoring are part of the standard grooming process at the Country K9 Spa.

Country K9 Pet Resort & Spa is your pet's personal spa! We offer a complete range of services for your Dog or Cat; from bathing and brushing to scissoring and grooming, even including pedicures and ear and dental hygiene.


Bathing and Brushing

Bathing and brushing at the Country K9 Spa is accomplished with the HydroSurge® bathing system. This reduces stress by requiring pets to stand in a minimal depth of water (typically only 1 inch) and at the same time allows the technician to wash and condition your pet's coat with the high flow and pressure required to ensure a deep, sub-dermal, therapeutic cleaning and removal of significant amounts of old undercoat and loose hair. All pets are bathed with hypo-allergenic oatmeal shampoo and humectant rich coat conditioners. Ears are cleaned and toenails trimmed as part of the normal bathing process.

Pedicure, Nails and Dental

A pedicure is extremely important for your dog's health and safety. Long toenails affect your dog's gait, and excessive hair between the pads affects traction and can lead to matting. At the Country K9 Spa the hair between the pads is clipped, the nails are cut, and the feet are rounded during hand scissoring. Ears are cleaned with Pro Ear, a product which emulsifies hardened ear wax. Excessive hair in the ear canal is plucked when required by the breed standard.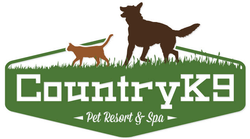 667 Walters Mill Lane, Stephenson, VA 22656 countryk9pets@yahoo.com (540) 667-PETS